Computer Repair in Pittsburgh

desktop or laptop computers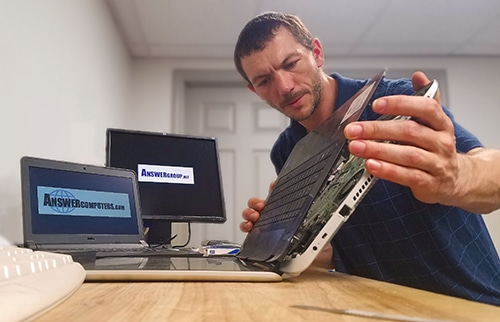 Answer Computer's knowledgeable computer repair techs have years of experience repairing and servicing computers. We can take care of slow and unresponsive computers, computer viruses, computer infections or any other problem imaginable.
Our services include anywhere from business grade security and support to hardware repairs. Even something as incidental as a password reset.
Tired of your slow running computer?
No problem! We can quickly assess the problem from our Pittsburgh location and let you know the solution to fix it. If you have a virus, malware or anything else we have the knowledge, skills, and tools in our shop to repair your computer issues at a competitive and affordable price.
Have a cracked or broken laptop screen?
We replace laptop screens fast and maintain an extensive inventory of computer parts to ensure all repairs are performed as fast as possible! Our technicians have years of experience in computer, laptop repair, and IT services.
Are you wondering if you should repair your computer or buy a new one?
Tell us what problems you are having and we will help you decide if your computer is worth repairing or not. Our prices are competitive so more often than not the best choice is to repair the computer you already use, own and love. We'll help you get up and running again in no time. Because we have a full service repair shop, you can talk one on one with our techs.
Are you in search of a reliable and fast repair shop? Look no more, we will assess the problem and provide you with an affordable solution. Give us a call or just stop by with your laptop or PC today! Located in Carnegie, we are just minutes away from downtown Pittsburgh.